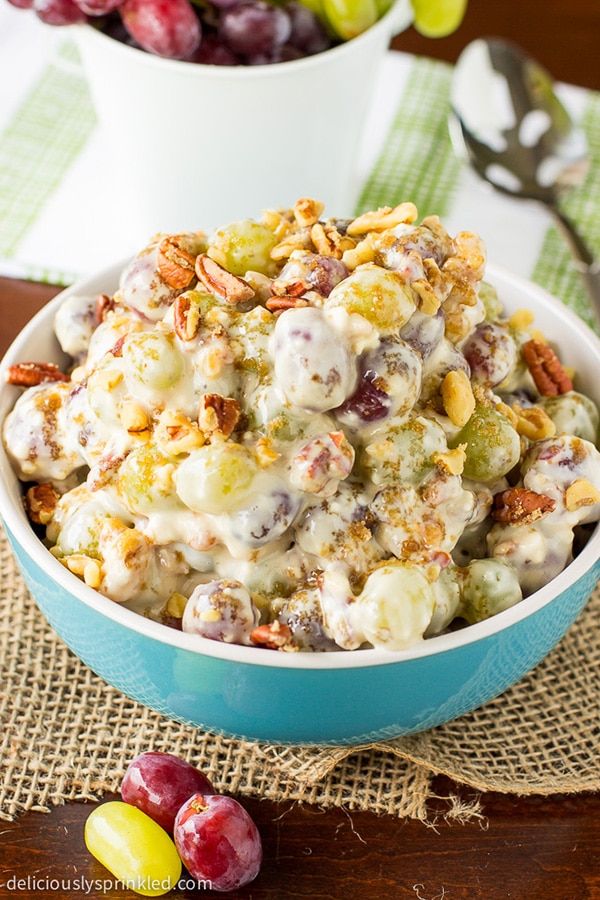 Springtime is here and so is this delicious light yet crispy Pecan Crunch Grape Salad! This is a wonderful side dish that is the perfect combination of sweet and salty!
Ingredients:
Grape Salad:
2 cups green seedless grapes, washed & stemmed
2 cups red seedless grapes, washed & stemmed
1 cup (8 ounces) sour cream
1 package (8 ounces) cream cheese, softened
1/2 cup granulated sugar
2 teaspoons vanilla extract
Pecan Crunch Topping:
1 cup dark brown sugar, packed
1 cup chopped pecans
1 cup chopped walnuts
Directions:
In a large sized bowl, mix sour cream, cream cheese, sugar, and vanilla extract until smooth and creamy.
Stir grapes into mixture, and pour into a large serving bowl.
Topping:
In a small bowl, combine brown sugar, chopped pecans, and chopped walnuts. Sprinkle topping over top of grapes.
Cover and place in refrigerator for at least 2-4 hours before serving.
For more yummy summer treats head over to